Yosemite National Park Receives $9.3 Million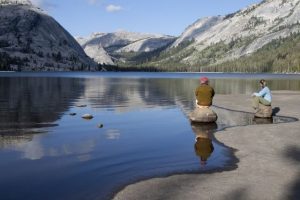 Yosemite's Tenaya Lake

View Photos
Yosemite Valley, CA– This year Yosemite National Park received $9.3 million from the Yosemite Conservancy.
"People are incredibly passionate about providing for Yosemite's future," said Mike Tollefson, Conservancy president. "Support for the park makes a lasting difference in improving people's experiences and protecting it for future generations."
More than 50 projects and programs received funding. Youth In Yosemite programs received $1.3 million for education, mentoring, wilderness exploration and park restoration.
At Tenaya Lake, one of Yosemite's most popular summer destinations, $850,000 in contributions is restoring wetlands and improving beach access.
The 90-year-old fountain in front of the WawonaHotel was also rehabilitated thanks in part to Conservancy supporters.
Dozens of artists reach more than 2,000 park visitors annually through Yosemite Conservancy's Art in the Park programs. Yosemite Theater performances at the Valley Visitors Center also entertain and educate more than 10,000 visitors each year.
Yosemite Conservancy is the only philanthropic organization dedicated exclusively to the protection and preservation of Yosemite National Park and enhancement of the visitor experience.
Written by tina.falco@mlode.com