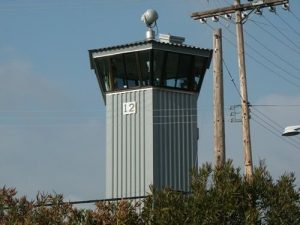 Sierra Conservation Center

View Photos
Sonora, CA — The state is cracking down on the smuggling of cell phones behind prison walls.
Inmates use phones to organize gang activity, intimidate witnesses and commit crimes.
SB 26, signed today by Governor Jerry Brown, creates penalties for residents that smuggle a cell phone to a prisoner. Violators could receive up to six months in jail and $5,000 in fines.
Sierra Conservation Center Warden Frank Chavez says the smuggling of cell phones is a problem at his institution and others across the state. He says people are finding creative ways to get a cell phone past security.
"We've had situations where someone will come in late at night and throw it over the walls," said Chavez in a recent interview. "Sometimes they (phones) are sent in packages and legal mail. We had an inmate getting stuff through the mail, and there were a couple of cell phones cut and placed in the middle of paperwork. Our alert staff inspected and found it."
There have also been times at Sierra Conservation Center when trucks disguised as vendors will drive in and use the trash dumpster. Inside the bags will be strategically placed cell phones. Inmates allowed to take the trash out will grab the phones and take them to the gang leaders.
Chavez says the prison constantly has to be on the lookout. He adds that SCC now has a canine that is trained to search out cell phones and controlled substances.
SB 26 also facilitates the deployment of technologies to block or disrupt unauthorized cell phone activity at the prisons.