Yosemite Unveils Historic Exhibit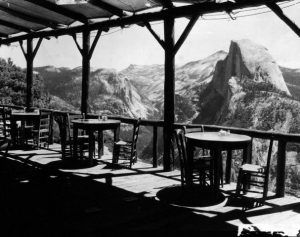 Glacier Point Cafeteria

View Photos
Yosemite Valley, CA– A new exhibit is coming to Yosemite National Park next week.
Starting Wednesday, June 8th and running through October 31st, the display entitled "Views & Visitors": The Yosemite Experience in the Early 20th Century," will feature photographs, prints and artifacts from Yosemite's early years.
Early camp and hotel brochures, souvenirs and historic signs from this time period will also be on display, as well as artifacts related to the Yosemite Valley Railroad, Yosemite Winter Club, Indian Field Days and the opening of the Tioga Road.
The exhibit will be located in the Yosemite Valley Museum next to the Visitor Center. It's open to the public and can be viewed daily from 9:00 am. to 5:00 pm. June 8th through September 30th and from 10:00 am. to 4:00 pm. in the month of October.
This event was made possible through a grant from the Yosemite Conservancy, as well as funding from the National Park Service. The park's collection is also supplemented by loans from DNC Parks & Resorts at Yosemite Inc. and a number of private collectors.
Written by tina.falco@mlode.com