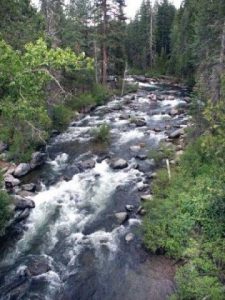 Stanislaus River

View Photos
This Memorial Day weekend, recreationalists are reminded that fast flowing cold water in area rivers, creeks and streams can be deadly.
Streams, lakes and reservoirs are directly fed from the melting snowpack in the Sierra Nevada.
Even though a stream or river looks cool and inviting, the water is actually very cold.
Although afternoon air temperatures may be warm, people in the much colder water could quickly experience hypothermia, which could lead to drowning.
Hypothermia is a sudden loss of body temperature that can be fatal. Warning signs include uncontrolled shivering, slurred speech, drowsiness and apparent exhaustion. Even strong swimmers can tire quickly in cold water, and a strong current is a deadly combination.
Due to this year's above normal snowpack, California's rivers and streams are running very cold and fast for the next several weeks. Plan ahead for any trips to area waterways by having life vests at hand.. and wear them!
Written by mark@mlode.com