Reaction To Bin Laden's Death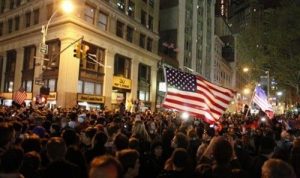 Crowd In New York City

View Photos
Sacramento, CA — Political leaders are reacting to the death of Osama Bin Laden.
Republican Congressman Dan Lungren says, "The horrific tragedy of September 11 was the main reason I felt the need to return to public service. I am pleased to hear this news. This is a strong reminder that actionable intelligence is the key to success in these types of operations. It is important we keep this in mind as we look at extending elements of the Patriot Act."
Bin Laden was killed by Navy Seals during a special mission called for by President Obama.
Governor Jerry Brown has released a statement reading, "Americans can be grateful that President Obama brought Bin Laden to justice. Our friends as well as our adversaries throughout the world can be assured of America's resolve in combating terrorism and protecting the values of democracy and freedom."
Bin Laden was killed at a home in Pakistan.
To read more about Bin Laden's death, click here.