Olsen Appreciates Gov's Approachability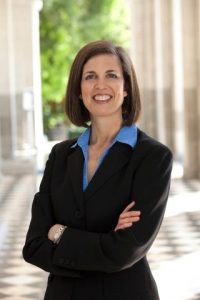 Kristin Olsen

View Photos
Kristen Olsen has been in Sacramento for just a little over three months and has taken quick note of partisan politics.
Olson was Friday's KVML "Newsmaker of the Day".
Kristin Olsen was elected as the Republican Candidate for the California State Assembly, in the 25th district, during the Primary Election last June and went on to win unchallenged in the General Election last November.

"My top priorities were and still remain government reform, job creation and local control," said Olsen. "And budget reform is at the top of the list. It's got to be dealt with now because every time we delay it, the problem gets worse."
Olsen appreciates Democrat Governor Jerry Brown for his approachability and his willingness to sit down, work with and listen to the concerns of the minority of Republicans in Sacramento.
However, when it comes to policy discussion and negotiations, Olsen has noted that her Democratic colleagues in the Assembly have not been as inclusive. Outside of political policy discussion, there is a bit more openess in building relationships.
Prior to her election to the State Assembly, Olsen served as a member of the Modesto City Council for five years. Olsen succeeded outgoing Assemblyman Tom Berryhill, who was elected to the California State Senate.
The 25th Assembly District includes the communities of Sonora, Angels Camp, Mariposa, Oakdale, Riverbank, Modesto, Waterford, Hughson, Chowchilla, Oakhurst and Mammoth Lakes.
Olsen says that she has a passion for the businesses, communities and people of the Motherlode and the central valley. Born and raised in Modesto, Olsen worked with Berryhill for a smooth transistion.
Re-elected to the Modesto City Council in November 2009, Olsen believes in low taxes, attracting stable, good paying jobs to the area and creating an environment that will allow businesses to thrive. Olsen also believes in keeping tax revenues working at the local level to provide the best police and fire response, roads, parks, and other quality of life services citizens deserve.
Olsen has also been active in the pro-life movement, writing articles and letters to elected officials, giving speeches and marching to the State Capitol to support the issue. She is a strong advocate of faith-based pregnancy centers. Olsen is married and has three children.
In her spare time, she enjoys gardening, singing and playing piano.
The KVML "Newsmaker of the Day" is heard each weekday morning on AM 1450 KVML at 6:47, 7:47 and 8:47am
Written by mark@mlode.com