A Recount For Summerville's Bond Measure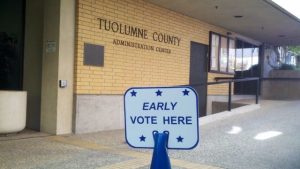 Tuolumne County Voting

View Photos
Sonora, CA – Summerville's eight million dollar bond issue will get a second chance. Election Officials released the final count of all the provisional ballots from the November election late last Friday. Those results showed Measure H failed by just two votes. Now a voter wants a recount.

Elections Official Debi Russell-Bautista says, "Barbra Kerr came in today. She is a voter and she has requested the recount. We have set that for Tuesday starting at 9 a.m. When she comes in on Tuesday she will need to bring in a check to pay for the recount. Then she can tell us what precincts to start counting first. We will continue counting until she decides the numbers have changed enough that it's either won or the numbers aren't enough to overturn the original outcome."

The voter will have pay for the recount, only if the results do not change. Russell-Bautista says it will cost about eight hundred dollars a day for four staff members to do the counting.
Russell-Bautista says, "I was not surprised by the call for a recount. When you're only talking two votes, there are things that could happen and for that kind of money wouldn't you try to see if it could be overturned. She adds, "Now if it were 200 votes then I would be really surprised."
The measure needs a 55 percent majority to pass.