Local Park Supporters Honored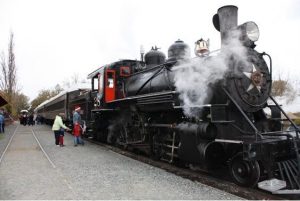 Railtown 1897

View Photos
Sonora, CA — Supporters for Railtown 1897, Mariposa Mineral Museum and Mono Lake Tufa Reserve were honored for their hard work to help raise money to keep those parks open.

Key note speaker and Acting Deputy Director of State Parks Aaron Robertson acknowledged there is a lot of work to do after the parks scandal where $54 million dollars was found sitting in two accounts while over 70 parks were facing closure including Railtown 1897.
Robertson says, "The trust that has eroded over the most recent event is a big concern to us. There is nothing more important than trust and integrity. We do take that very seriously. We are working really hard to talk with folks, just like tonight, and to explain to them what we are doing to build these partnerships, to become more accountable and more transparent in how we do business and to basically restore that trust."
Robertson says the parks department is working on developing long term strategies to create stable funding for those parks on the closure list.
Parks Director Ruth Coleman resigned as director in June amid the scandal.