Area Bridge A National Historic Landmark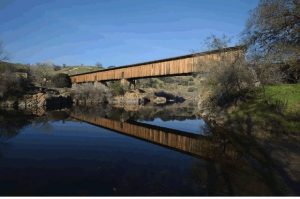 Knights Ferry

View Photos
The federal government has announced the designation of 26 national historic landmarks.
The Knights Ferry Bridge has joined the prestigious list. The Interior Department reports that the bridge was constructed from 1862-63. It is considered a great example of 19th-century covered bridge construction using the William Howe patented truss, one of the most successful, and widely used American timber bridge truss types.
Ken Salazar, Secretary of the Interior, states, "Each of the landmarks represents a thread in the great tapestry that tells the story of our beautiful land, our diverse culture and our nation's rich heritage."
California had a strong presence in this year's list, adding four national historic landmarks. The others are the Bay Historic Archaeological District in Marin County, the U.S. Post Office and Courthouse in San Francisco and the U.S. Post Office and Courthouse in Los Angeles.
The National Historic Landmarks program was established in 1935, and is administered by the National Park Service, on behalf of the Secretary of the Interior.