A Closer Look Nabs Two Thieves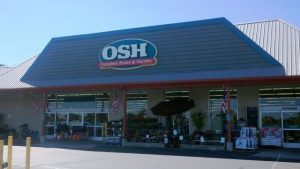 Orchard Supply Hardware Sonora

View Photos
Sonora, CA — Sonora Police say the combination of a false name, the odor of marijuana and stolen property from Orchard in the car prompted the arrest of two suspects in Tuolumne County.
It happened Tuesday morning around 8 o'clock when officers pulled a vehicle over for mechanical violations. Police report when they approached the car they could smell marijuana. The driver, 34 year old Trina Jones of Sonora admitted to having several "joints" in the ashtray.
Police say the passenger gave his name as Ray Eshaya. Officers determined that was a false name after a records check revealed a near miss with a subject wanted for a felony theft warrant with a similar last name and date of birth. Police say the passenger was eventually identified through tattoos and his identification card he had on him as 48 year old Eshaya Eshaya of Modesto. They say Eshaya has the same first and last name and had given a false name because of the warrant out of Stanislaus County.
Police say, during a search of the vehicle, additional marijuana was found and in the trunk officers discovered a new generator. They say the two gave conflicting stories on how they got the generator. Police say a similar generator had recently been stolen from Orchard Supply Hardware in Sonora so they gave them a call and found it was stolen from the store.
Police report surveillance video showed both Jones and Eshaya worked together to steal the generator from the store last week. The two were arrested.
Jones faces felony burglary, felony possession of stolen property and felony conspiracy to commit a crime. Eshaya is charged with felony warrant, felony theft, felony possession of stolen property, felony conspiracy to commit a crime and misdemeanor false identification.