Polls Say No To Local Bonds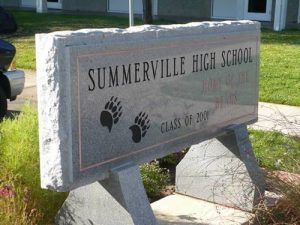 Summerville High School

View Photos
Sonora, CA — Recent myMotherLode.com informal polls asked if our readers would vote for the school bond measures on the ballot this November. Well over 60 percent said they will vote against issuing bonds.
Sixty-six percent said no they would not approve the Sonora bond. The news story with 41 comments and details of what the Sonora bond measure would fund is here.
Another informal poll asked, "Will you vote to approve the Summerville high school Bond measure for $8 million to improve facilities?" Sixty-nine percent said no, 17 percent said yes and 12 percent said they were not sure.
Summerville's Bond proceeds would be used to "modernize, replace, renovate, expand, construct, acquire, equip, furnish and otherwise improve the classrooms and school facilities of the Summerville Union High School District."
The specific school facilities projects to be funded are listed below but as stated in the proposal shall not be limited to:
Repair or replace leaky roofs.
Renovate, repair, expand and/or upgrade outdated classrooms and school facilities.
Replace outdated heating, ventilation, air conditioning, and lighting systems.
Make health and safety improvements, including parking lots, abatement and removal of hazardous materials identified prior or during construction.
Improve student access to computers and modern technology to improve learning environments, including media, audio/visual equipment, computers, hardware and software systems, and other technology.
Upgrade/repair/install/construct/renovate P.E. fields and facilities.
Replace outdated windows.
Replace inadequate wiring and electrical systems to meet current electrical and accessibility codes, increase capacity, and relieve currently overloaded electrical systems.
Replace an outdated, undersized art classroom.
Install energy efficient systems including "green" building projects and sustainable building practices to promote energy-efficiency (e.g., solar, high performance lighting, electrical systems panel, etc.).
Federal and State-mandated Americans with Disabilities Act (ADA) accessibility upgrades and as mandated by the Division of the State Architect (DSA) including site access, parking, restrooms, relocation of some existing electrical devices, drinking fountains, outdoor fitness equipment, etc.
Miscellaneous Projects at School Sites
Address unforeseen conditions revealed by construction/modernization (such as plumbing or gas line breaks, dry rot, seismic, structural, etc.).
Other improvements required to comply with existing building codes, including the Field Act, and access requirements of the Americans with Disabilities Act.
Necessary site acquisition and preparation/restoration in connection with new construction, renovation or remodeling, or installation or removal of relocatable classrooms, including ingress and egress, removing, replacing, or installing irrigation, utility lines (such as gas lines, water lines, electrical lines, sewer lines, and communication lines), trees and landscaping, relocating fire access roads, and acquiring any necessary easements, licenses, or rights of way to the property.
Rental or construction of storage facilities and other space on an interim basis, as needed to accommodate construction materials, equipment, and personnel, and interim classrooms (including relocatables) for students and school functions or other storage for classroom materials displaced during construction.
Acquisition of any of the facilities on the Bond Project List through temporary lease or lease-purchase arrangements, or execute purchase option under leases for any of these authorized facilities.
 For any project involving rehabilitation or renovation of a building or the major portion of a building, the District shall be authorized to proceed with new replacement construction instead, if the Board of Education determines that replacement and new construction is more economically practical than rehabilitation and renovation, considering the building's age, condition, expected remaining life, and other relevant factors.
All work necessary and incidental to specific projects described above, including demolition of existing structures.
Summerville's bond measure to be voted on states that there will be an independent citizens' oversight committee to determine which projects are funded and NO money will be taken by the state or used for administrator salaries.