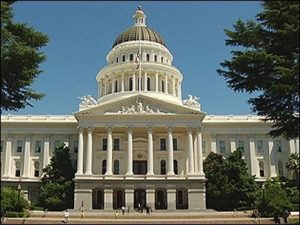 California Statehouse

View Photos
Sacramento, CA — California lawmakers to will take up a gun bill aimed at assault weapons.
SB 249 was introduced by Democratic Senator Leland Yee. The debate over gun regulations has a renewed interest following the movie theater shooting in Aurora, Colorado and Sunday's shootings at a Wisconsin Sikh Temple.
California's existing law has allowed for the sale of semi-automatic weapons with easily detachable magazines. Yee argues that a similar type of weapon was used in the Aurora shootings. Yee's legislation would also prohibit assault weapons with pistol grips, telescoping stock, and certain other features from being easily reloaded with multiple rounds of ammunition.
The gun bill will be considered by the Assembly Appropriations Committee next week. An early proponent is California Attorney General Kamala Harris. It has opposition from many pro-gun rights organizations.