Crews Pile Burn Between Rains, Plan Bear Mountain Underburn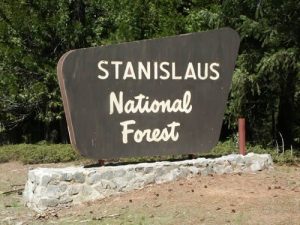 Stanislaus National Forest

View Photos
Sonora, CA — In between the incoming late spring storm systems, Stanislaus National Forest officials are still finding brief windows for burn activities.
According to Forest spokesperson Michelle Carbonaro, a sizable amount of pile burning is going on today in the Mi-wok Ranger District near the South 108 Underburn (as reported here) on 3N90 Forest Road. Some pile burning is also underway in the Lakemont area within the Calaveras Ranger District.
Plans for a significant 986-acre underburn in the Groveland Range District are in the wings but on hold due to the current weather situation. Called the Bear Mountain Underburn, it was supposed to already be underway and run for about 15 days through mid-June. The location is about 22 miles east of Groveland along Forest Road 1S03 in the vicinity of Ackerson and Bear Mountain.
Bear Mountain Underburn plans are to treat between 50 and a 100 acres daily with low-intensity fire. When burning is going on smoke may be visible from Highway 120 and Evergreen Road with some down canyon drift smoke visible in the evening and early morning, mainly in the South Fork of the Tuolumne River drainage.
Officials remind the public not to call in the burn as a wildland fire and stress that all burning is done when conditions permit and is monitored and conducted in accordance with state and county air quality guidelines as well as closely coordinated with local county air quality control districts.