State Okays Pinecrest Level Reduction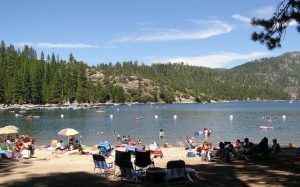 Pinecrest Lake

View Photos
Pinecrest, CA — The State of California had earlier stated that T.U.D. would have less water to utilize from Pinecrest Lake this summer.
To ensure that there is ample water for various recreational activities, the State Water Resources Board had mandated the Pincrest Lake not fall below 5,608 ft. before Labor Day weekend. The new rule went into effect this year, and had T.U.D. very concerned when you consider that the level fell as low as 5,605 ft. during the drought year of 2007.
Because of this past dry winter, the State Water Resources Board has issued a one-time waiver, so that Pinecrest Lake can drop to as low as 5,606 ft. by Labor Day. T.U.D. must in turn, implement "Phase Three" water conservation measures. All in all, T.U.D. General Manager Pete Kampa feels it is positive news for T.U.D. customers.
"The good thing is that we're not going to have to come out and put restrictors in the line, and we're not going to have to adopt a fee schedule that penalizes our customers for water waste," says Kampa. "We'll have access to the water that we will need to get us through the next six weeks, so we're not going to have to cut back our agricultural and industrial customers arbitrarily, just to be able to maintain water supply."
Kampa warns that this is not a long-term solution, as there are sure to be additional dry years in the future. Kampa argues that recreationalists at Pinecrest will not notice much change, despite the drop to 5,606 ft.
Kampa says additional water conservation measures, as per the agreement, are still being drawn up. It will likely include things like asking customers to water only on odd or even days. Those measures would have to be approved at the T.U.D. meeting on July 24.