Denham Argues Against Rail Project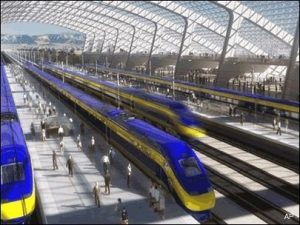 HSR

View Photos
Washington, DC — The Republican House of Representatives has passed an amendment to the federal transportation bill saying that no funding can be allocated for California's high speed rail project.
The amendment was introduced by Congressman Jeff Denham, whose district covers Tuolumne County.
"At a time when we're over-burdened by state and federal debt, and already struggling to find ways to pay for our existing programs, we should not be throwing money we don't have at a project most don't have confidence in," says Denham. "Instead of taking responsibility for the obvious, this Administration and the California legislature would rather California ignore its growing debt and continue a seriously-flawed high speed rail project that would drive California closer to insolvency."
California Governor Jerry Brown has been a strong proponent of high speed rail, and the legislature is planning to vote on issuing the initial bonds sometime within the next week. The state is relying on federal money to help offset costs. Denham's amendment still faces a challenge, as it would have to be passed in the U.S. Senate and signed by the President in order to become law.