Giving The Ultimate Sacrifice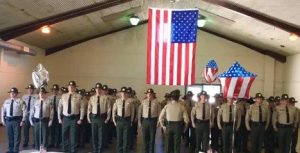 2019 Peace Officer Memorial Ceremony at the Mother Lode Fairgrounds

View Photos
Sonora, CA – Across the state, and right here in the Mother Lode, law enforcement is honoring their own, by remembering the fallen in this year's 2019 Peace Officer Memorial.
The event is held each May throughout the state. With the bagpipes playing "Taps" and a "21 Gun Salute" area law enforcement remembered the eleven fallen officers from 2018 at the ceremony held at the Mother Lode Fairgrounds this afternoon. The keynote speaker was Mike Anderson who is a Gold Star Father that lost his son in Iraq. Tuolumne County Sheriff Bill Pooley recounts, "He came and he talked about service and the sacrifice the people give to their communities and country. It was a very nice, but somber event."
The names of the officers that died in the line of duty last year were read off during the "Roll of Fallen Officers" along with their department, and end of watch. During this year's memorial ceremony, the CHP honored Officer Kirk Griess, who was killed during a traffic stop on Interstate 80 in August. Sheriff Pooley notes, "All of us who are in the job, we love what we do and we are here to serve the public." He sadly reflects, "There are those of us who are called upon to give the ultimate sacrifice for their community. It's just heart wrenching when you lose someone. I just can't explain it any other way – it is just devastating."
The CHP notes that in its 90-year history 230 have fallen while on duty in California. The ceremony ended with a fly over by a CHP helicopter. Also in attendance were representatives from Sonora Police Department, CHP Sonora Unit, Tuolumne County Probation Office, Tuolumne County District Attorney's Office and the Sierra Conservation Honor Guard.