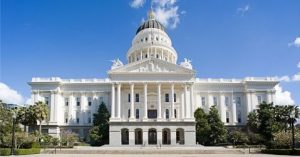 California State Capitol

View Photos
Sacramento, CA — Friday is the deadline for bills in the California legislature to be approved by at least one house in order to be taken up this session.
Here's a list of some of the notable bills that passed the first hurdle yesterday in Sacramento:
SB 1390 would allow sports betting at California casinos and racetracks that already have gambling licenses. It passed on a 33-2 vote in the Senate and now moves to the Assembly. The proposed law would not be implemented until New Jersey resolves a lawsuit with the federal government over sports betting.
AB 1964 would increase protections regarding religious freedom in the workplace. It would apply to religious clothing, hairstyles, and the right to carry religious objects. It was approved on a 59-3 vote in the Assembly and now moves to the Senate.
SB 1186 is designed to help small businesses in violation of the Americans with Disabilities Act. It requires that attorney's give businesses at least 30 days notice before suing for damages. It was passed 36-0 in the Senate.