Tuolumne County Arts: May The 4th Be With You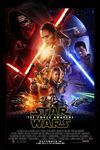 STAR WARS Poster

View Photos
Tuolumne County Arts presents a bit of a Star Wars Mashup this weekend, celebrating both May the 4th and Cinco de Mayo.
Lisette Sweetland, Tuolumne County Arts Executive Director, was Friday's KVML "Newsmaker of the Day".
Joe Craven and the Sometimers will perform at the MyACT Theater (14327 Cuesta Court) in east Sonora, this Saturday night starting at 5 PM.
This fundraising celebration will benefit the TCA's Summer Arts Programs and the MyACT Theater itself.
Participants are encouraged to dress for the Cantina celebration. There will be a costume contest.
Tickets are $15 online or $20 at the door.
Additionally, the Tuolumne County Arts Alliance recently moved to a new location. They are now inside of the Sonora Inn, at the corner of Washington and W Stockton Street.
Tuolumne County Arts endeavors to inform, educate, entertain, and provide enjoyment and enrichment for the residents and visitors of Tuolumne County.
The history of serving Tuolumne County first began as an idea from gatherings in 1970 that were hosted by renowned musician, conductor and supporter of the local arts community; Carl Anton Wirth. He welcomed like-minded friends to his Twain Harte cabin to share music and conversation with other artists. An idea emerged to create an arts organization that would unite the growing number of artists and musicians who were drawn to the beauty of the area.​
In 1976, California's State Legislature created the California Arts Council. Recognizing that everyone's life is enriched by the arts, CAC continues its mandate to support, encourage and nurture the arts in our state. Originally known as Central Sierra Arts Council, they became a 501(c)(3) Non-Profit membership organization in 1978.
The partnership with the California Arts Council is in the form of the SLPP (State and Local Partnership) grant from the California Arts Council. Because of that partnership, TCA is designated as Tuolumne County's mandated Public Arts Agency. The goal of which is to provide a continuing Arts presence in order to strengthen our local economy through the arts.
Along with the new location, is a new website. Check out https://www.mytuolumnecountyarts.org for information on upcoming events. You can also call 209-532-ARTS (2787).
The "Newsmaker of the Day" is heard every weekday morning at 6:45, 7:45 and 8:45 on AM 1450 and FM 102.7 KVML.