Detection Of Mad Cow Disease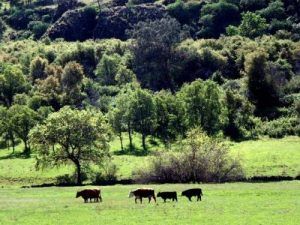 Cattle

View Photos
Sonora, CA – Tuolumne County Health Officer Dr. Todd Stolp made a statement today about a California dairy cow that tested positive for mad cow disease or, more specifically, Atypical Bovine Spongiform Encephalopathy (BSE).
The cow that tested positive was in Hanford, located south of Fresno.
Dr. Stolp says, "BSE is not transmitted by milk, nor was this cow destined for human consumption. Therefore, this detection does not represent a significant public health risk."
BSE is a disease that is fatal to cows and can cause a deadly human brain disease in people who eat tainted meat. Atypical BSE can be caused by a random mutation. The name of the dairy where the cow died hasn't been released, and officials haven't said where the cow was born.

The California Department of Public Health (CDPH) Director and Public Health Officer, Dr. Ron Chapman also issued the statement; "There is no public health threat due to the discovery of BSE in a dairy cow. The food supply in California has not been affected by this discovery, and residents do not need to take any specific precautions. The California Department of Food and Agriculture has many procedures in place to keep this disease from entering the food chain" Dr. Chapman noted that the detection is evidence that the system of safeguards is working.
According to the Associated Press, the infected cow was identified through an Agriculture Department surveillance program that tests about 40,000 cows a year for the fatal brain disease.
There have been three confirmed cases of BSE in cows in the United States – in a Canadian-born cow in 2003 in Washington state, in 2005 in Texas and in 2006 in Alabama.