Law Enforcement Activity Near Sonora High School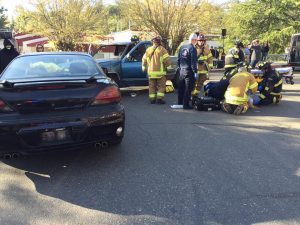 Medics and fire personnel tending to a critical patient at the "Every 15 Minutes" program

View Photos
Sonora, CA — Do not be alarmed if you see a heavy amount of law enforcement officials staged at Sonora High School this morning.
The CHP reports that the annual Every 15 Minutes simulated drunk driving collision will begin at 8:30am on School Street near the student parking area. The mock collision will last for approximately an hour, but the roadway will be closed from Snell Street to Washington Street for an extended period for the setup and cleanup.
Every 15 Minutes demonstrates to students the impact that drunk driving has on friends, family and the community. On hand this morning will be police, fire, ambulance, public works, the coroner and tow truck companies. Tomorrow there will be a mock funeral and assembly for the students.
Seven students are helping to carry out the simulation as part of their senior project. Funding for the effort is being provided by the California Office of Traffic Safety. The title symbolizes that every 15 minutes someone dies from an alcohol related collision.