A Bizarre Burglary In Sonora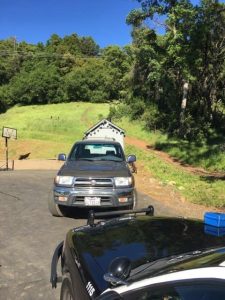 Toyota 4runner at the Phoenix Lake Road burglary arrest sceen

View Photos
Sonora, CA — Neighbors of a Sonora home were shocked to see a nude man running around the property and taking items not only from that house, but the one next door as well.
Originally on Thursday afternoon, a call was placed to the Tuolumne County Sheriff's Dispatch reporting a suspicious Toyota 4runner parked in the driveway of a home in the 19000 block of Phoenix Lake Road. When deputies arrived at the house they found sandals that had been left on the driveway near the vehicle. Taking a look inside the home, a matching shoe print could be seen on the couch, according to sheriff's spokesperson Sgt. Andrea Benson. A bike from a neighboring home's shed was also left by the driveway.
A check of the vehicle revealed it belonged to 37-year-old Eluterio Galvan of Sonora. Minutes later, another call came into the dispatch reporting a strange scene involving a naked man wearing only rubber boots and wandering around the area. It was Galvan, confirms Sgt. Benson, who shares deputies found him at another home he had burglarized. She notes that the boots he was wearing were ones he had taken from the shed.
Several items from the burglaries were located nearby and returned to their rightful owners. Galvan admitted the sandals were his and to being high on methamphetamine. His bail is set at $50,000.