Coyote Sam's Gang Arrives Ahead Of Mother Lode Roundup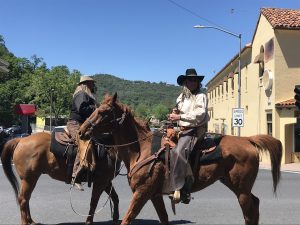 Coyote Sam's Gang Rides Through Sonora
Sonora, CA – Some travelers through downtown Sonora were surprised this afternoon to see Coyote Sam's gang of misfits ride through town on horseback.
It is a traditional sign that the Mother Lode Roundup is just over a couple of weeks away. The gang of derelicts disrupted a roundup luncheon held during the noon hour at Emberz that was attended by many Tuolumne County Sheriff's Posse members and supporters.
Members of the posse, the queen candidates and even Sheriff Bill Pooley couldn't stop the group of undesirables from disrupting Washington Street during the noon hour (see video). They rode into town on horseback, guns firing, and vowing they would finally put an end to the Mother Lode Roundup.
This year marks the 62nd anniversary of the community celebration.
Also of significance, Sheriff's Posse General Chairman Audie Archer announced this afternoon that Galen Mutzner, who started the community bean feed, is the Top Hand award winner (see photo).
You can read more about the 2019 Mother Lode Roundup, and all the activities, by clicking here.