Secret Yosemite Still Hiding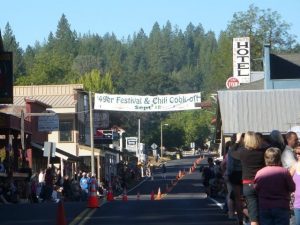 Groveland

View Photos
Groveland, CA — When Highway 120 closed because of a rock slide the Tuolumne County visitors bureau, Yosemite Chamber of Commerce and merchants along Highway 120 came up with a campaign to promote the north end of the park that was still accessible.
The highway reopened well ahead of schedule on March 10th. The campaign information about the "Secret Yosemite" emphasizes the many activities and sites available outside Yosemite Valley.
Highway 120 is the primary entry route for visitors from the San Joaquin Valley, Sacramento and the Bay Area. According to the campaign, many of those visitors bypass sites and activities because they're not aware of them. Some of the often over-looked sites promoted are the Tuolumne Grove, Rainbow Pool, Hetch Hetchy and the town of Groveland.
When the road was closed 120 was the only way to get to "the other Yosemite Valley" Hetch Hetchy. The campaign stated that Hetch Hetchy offers, "amazing sights not found in its more famous neighbor, such as a walk-through tunnel and its own spectacular waterfalls."
Rainbow Pools are the natural swimming holes along the south fork of the Tuolumne River just off Highway 120. The area is said to be popular for hiking, picnicking and bird watching as well as swimming in the warmer months.
Bruce Tepper, Marketing Consultant for Yosemite Gold Country, Tuolumne County Visitors Bureau writes more in his blog "Highway 120"