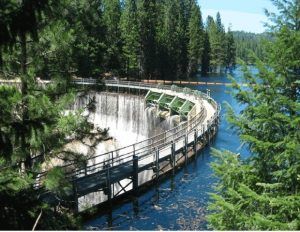 Lyons Dam Reservoir

View Photos
Sonora, CA — The 10 inches of rain this year compares to one of the driest year's on record in the county, the 1976-77 drought year.
According to TUD District Associate Engineer, Glen Nunnelley, precipitation from the last series of storms brings the total winter rainfall to about 10 inches for the Sonora area. The average rainfall accumulation for this time of year is 23 inches.
Nunnelley states, "Even with the recent storms, the current water content in the snow for our watershed is to still too low, it's only about 11 inches so far, normally we would see well over 30 inches."
This compares to the 1976-77 drought year, one of the driest on record in the county, which was at about 9 inches of water content during this same time period. The concern is that there may not be enough snow runoff to fill Pinecrest Lake Reservoir this year. The main water supply for Tuolumne County is stored by Pacific Gas and Electric (PG&E) who manage the Pinecrest and Lyons Reservoirs. An agreement with PG&E, provides TUD its water supply from Lyons Reservoir.
According to TUD, snow amounts traditionally peak by April 1st each year, so this leaves us a couple of more weeks to see if there is an increase in the snowpack. Tuolumne County historically receives about five inches of precipitation and snow in March.
TUD is instituting voluntary water conservation (Phase II Water Conservation) measures effective immediately.
TUD General Manager, Pete Kampa says, "There are some simple steps that our customers can do to limit their water use. One of the first steps to water conservation is to limit all outside watering and to check your drip systems and sprinkler systems for any type of leaks." Kampa requested that individuals notify the District if they notice a water leak.
The Tuolumne Utilities District currently serves over 44,000 Tuolumne County residents. The District currently owns and operates 15 water treatment plants, 81 treated water storage tanks, two wastewater treatment plants, approximately 57 miles of open ditches and 330 miles of treated water pipeline.