Yosemite Celebrates Earth Day A little Early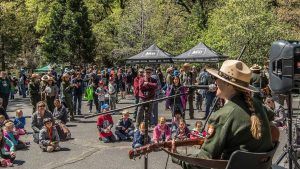 Yosemite National Park Welcomes Visitors With Special Events

View Photos
Yosemite, CA — Yosemite National Park is celebrating Earth Day a couple days early and no entrance fee is needed at the gate.
Although Earth Day is not until Monday, today the park is rolling several events into one grand bash marking National Junior Ranger Day, National Park Week, and John Muir's Birthday as well. Family fun activities that include music, games and interactive booths are in place at the Yosemite Valley Visitor Center in Yosemite Village from 10:00 a.m. to 2:00 pm. Visitors can also meet with rangers who will be discussing how the  detail how Yosemite is working to preserve and protect natural and cultural resources inside the park.
Park officials provide this breakdown of activities:
Learn about how you can reduce waste at the Sustainability booth. Bring an empty single-use camp propane canister and trade it in for a refillable propane canister.
Junior Rangers of all ages are welcome to explore the park on a special Ranger-guided walk at 10:30 am and 1:00 pm.
 Join a Park Ecologist and learn about Meadow Restoration on a walk around Ahwahnee Meadow at 10:45 am.
Connect with a Park Ranger and learn about bears and other wildlife that call Yosemite home.
 Express your love of Yosemite through a special art project brought to you by Yosemite Conservancy.
Enjoy Face painting and other hands-on activities for all ages
Join a photo walk at 11:00 am and explore Yosemite Valley through your camera's lens with photographers from the Ansel Adams Gallery
Learn sustainable gardening tips from the UC Mariposa Master Gardeners
To help kick off National Park Week, all entrance cost are waved, while camping and other fees still apply. Rangers urge all visitors to arrive early as parking is limited and ask that guest utilize the free park shuttle to get to the visitor center. If a ride is needed, YARTS (Yosemite Area Regional Transportation System) buses run multiple times daily, click here for schedule.
To find other weekend events including Easter celebrations, click here. For a list of events going on in the Mother Lode anytime go to the homepage and click on entertainment and then events.