New Sonora CHP Commander Making History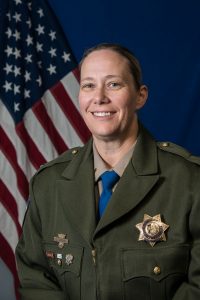 Lt Commander Destiny Tafoya CHP Sonora unit

View Photos
Sonora, CA – The new Sonora CHP Commander is making history as she is the first woman to oversee the unit.
Lt. Commander Destiny Tafoya is already hard at work as she took over the post, which includes overseeing 27 officers that cover around 2,229 square miles and roughly 55,000 residents in Tuolumne County, on April 1st.  She has wasted no time acclimating herself to the area.    "I love the community," shares Lt. Commander Tafoya, "I've already been to a couple different events and everybody has been so gracious and accepting. I'm just really excited to be here."
Noting the numerous curvy stretches of two lane highways in the county, Lt. Commander Tafoya outlines her top priority, which is to save lives by educating motorists about speeding and distracted driving, which April is the designated month to combat the latter. Both can lead to deadly collisions as she details that last year there were nine fatalities, up from seven the year before. Another deterrent, "Law enforcements always a big thing," acknowledges Lt. Commander Tafoya. "Being out there, being visible and slowing people down. Sometimes they just see us, and that is enough to slow them down. They don't even actually need a ticket."
Another area of concern, "With our younger generation, marijuana seems to be an up and coming thing now. Unfortunately, there isn't the testing to support a particular level yet. We really need to get that out there; so that people understand that buzzed driving is drunk driving," stresses Lt. Commander Tafoya.
With the CHP for 27 years, Lt. Commander Tafoya came from the Modesto unit in Stanislaus County. Before that she was a sergeant in the Coachella Valley area after leaving the Santa Fe Springs unit in Los Angeles County where she climbed up the ranks from patrol officer to investigator.
Lt. Commander Tafoya replaces Lt. Commander Shane Ferreira who left the job after just two years when he was promoted to Captain and took over command of the Modesto unit.