Cracking The Whip On Rustlers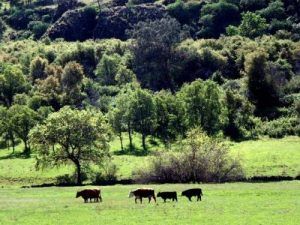 Cattle

View Photos
Sacramento, CA – A new bill is making its way through the State Assembly that will beef up fines and jail time. A California Senate Committee recently passed a bill that stiffens the penalties for stealing livestock. District 5 Assemblyman Frank Bigelow is this weekend's guest on Mother Lode Views. He authored Assembly Bill 924.
Bigelow says, "We had some stricter requirements in it, but unfortunately in the committee process they removed those portions of the penalties and put the fine at $5000. However, the value of having that there is it will give inspectors the funding to actually go out and follow up on some of these thefts. Sadly, there hasn't been any funding in the past so that's why a lot of these crimes haven't been prosecuted."
If passed, AB 924 would provide penalty enhancements for those convicted of livestock grand theft based on the total value of the livestock stolen. For example, theft of livestock exceeding a value of $15,000 will enable a District Attorney to add an additional term to a criminal sentence. The bill will also limit probation for repeat offenders and in a response to prison overcrowding, provides flexibility for a prosecutor to limit jail time for repeat offenders to 30 days. The bill would establish a fine to be paid to the Bureau of Livestock Identification (CDFA) to provide additional funding for future investigations involving livestock theft.
Bigelow's bill has the support of the Members of the California Cattlemen's Association (CCA). The bill is now headed to the Senate floor for a vote.