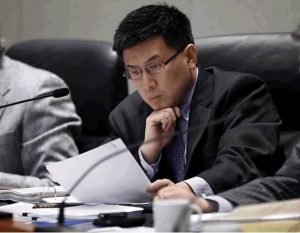 State Treasurer John Chiang

View Photos
Sacramento, CA – Those numbers are not only up for the month of June but the whole fiscal year. The State Controller's monthly report includes California's cash balance, receipts and disbursements for June of this year. It shows the total revenues equaled $13.1 billion, beating Governor Jerry Brown's May Revision estimate by $1.2 billion. For the fiscal year ending June 30, the total revenues were $100.1 billion, topping estimates by $2.0 billion.

However, State Controller John Chiang warns, "Rising employment, economic expansion and voter-approved tax increases have generated revenues outperforming even the rosiest of projections. However, California's history of boom or bust revenue cycles should be a cautionary tale that informs our spending decisions and incentivizes policymakers to prudently pay down accumulated debt."
The Controller's office says the State ended the 2011-2012 fiscal year with a cash deficit of $9.6 billion, and by June 30, 2013, that cash deficit narrowed to $2.4 billion. They say the cash deficit is being covered by internal borrowing from special funds.
The report shows in June all State revenues were higher than the Governor's May Revision estimates. The breakdown is below:
Personal income taxes up $644.6 million
Corporate taxes up $373.5
Sales tax receipts up $70.1 million
The Controller's office says the additional revenue is slated to go to California schools.