Congressional Hearing About Merced River Plan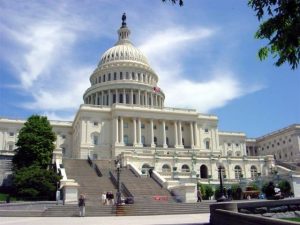 US Capitol

View Photos
Washington, DC — The U.S. House of Representatives Committee on Natural Resources will hold a hearing about the proposed Merced River Plan tomorrow, July 9.
The Subcommittee on Public Lands and Environmental Regulation is a 26 member bi-partisan that includes District Four Republican Tom McClintock, who represents the Mother Lode.
McClintock says, the proposal by the national parks service will close "all of the amenities that people enjoy while they are at the park. It moves us toward a 'look but don't touch' approach that is embraced by the most radical fringe of the environmental left. It destroys all of the amenities that 99% of park visitors rely on when they take their families to the park."
As reported previously, the Park Service's preferred alternative plan calls for the elimination of bike rentals, horseback offerings, a skating rink, pool, tennis courts, art store, and a historic bridge.
McClintock says the Subcommittee will look at what legal actions can be taken. He says, "One thing that we want to do is to impress upon the parks Management that they work for the public and that their job is to welcome and accommodate the public not to restrict and harass them."
McClintock says there is broad bi-partisan concern over these proposals and expects to see that at the hearing. He also says, there is no where else in the U.S. where the Wild and Scenic Act is being used to this extent.
Five witnesses are scheduled to speak including Jon Jarvis, the Director of the National Park Service and local Newsmaker Bob Asquith, President of the the Board for the Yosemite Gateway Partners. The newsmaker story about Asquith is "The Importance Of The Yosemite Gateway Partners" here.
McClintock says the Parks Service is expected to finalized its plan by the end of the year. For his blog "Keep Yosemite Tourist-Friendly" go here.