Stick To The Professionals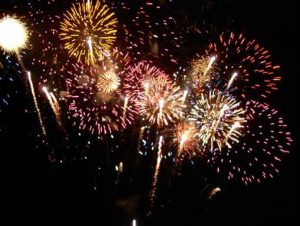 Lake Don Pedro Firework (file photo)s

View Photos
San Andreas, CA — That is the advice of Cal Fire when it comes to fireworks this 4th of July Holiday. Each year illegal and misused fireworks cause serious injuries and damaging wildfires. Cal Fire is taking a zero tolerance stand against anyone possessing, transporting or using illegal fireworks. The penalties range from a misdemeanor up to felony charges plus the cost for responding to a fire.
Cal Fire Spokesperson Nancy Longmore says, "We're not playing around because somebodies idea of fun, even just having the kiddies using sparklers, something can go haywire and start a fire. That could burn down homes and as hot as it is this weekend and into the 4th of July it's best to stick with the professional fireworks displays."
Illegal fireworks in California are those that explode, leave the ground, or move about uncontrollably. Illegal fireworks include sky rockets, bottle rockets, and roman candles. Use of any fireworks which causes an injury or fire may result in a felony citation or arrest.
Legal fireworks include a "Safe and Sane" logo from the California State Fire Marshal on the packaging but some illegal fireworks, especially those from out of the country, may have a forged logo on them. If you are not sure if your fireworks are legal, you can contact your nearest CAL FIRE facility or local fire station.
Use Safe and Sane fireworks responsibly, only where permitted, and never around dead or dying vegetation. Never allow children to use fireworks without adult supervision. Parents are liable for injuries or damages caused by their children's use of fireworks. Check with your local fire department to see if Safe and Sane fireworks are legal to use in your area.
Possessing or using any type of fireworks is illegal in the following areas:


Tuolumne County – all areas including the City of Sonora


Calaveras County – Ebbetts Pass Fire District


All federal lands in Tuolumne and Calaveras Counties, including the Stanislaus National Forest; and along any State highway rights-of-ways.
The Stanislaus National Forest does not play around when it comes to fireworks. Forest Officials says anyone caught setting off fireworks could face a fine of not more than $5,000 or imprisonment of not more than six months, or both.
Click here for more firework safety tips.