State Senate Passes Budget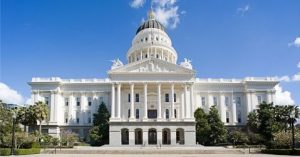 California State Capitol

View Photos
Sacramento, CA — The state Senate has passed a $96.3 billion Democratic spending plan and Republicans call it a ticking time bomb. It passed the Senate on a party-line, 28-10 vote. The Assembly is debating the plan today and is expected to vote today or tomorrow. The Legislature has until midnight Saturday to send the governor a balanced budget.

Republicans criticize the plan saying it is full of accounting gimmicks and fiscal time bombs, like the billions of dollars in unfunded public employee pension liabilities.
Mother Lode Republican Assembly Member Frank Bigelow is against the budget plan saying it fails to control overall spending or address long-term debt and that Republicans were shut out of the process.
Bigelow says, "This budget doesn't address the needs of rural Californians or the ideas that Republicans have put forward to save for the future and pay down our massive state debt."
Democrats tout the plan saying it has a nearly $1 billion reserve and gives more money to education. They can pass the budget on a simple majority vote and do not need Republicans to do so.