Berryhill Upset Over Ammunition Bill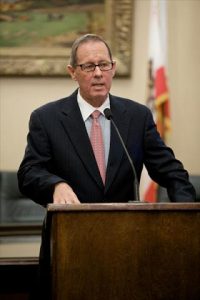 Senator Tom Berryhill

View Photos
Sonora, CA — The Mother Lode's District 14 Senator is voicing out against a bill that would require Californians to receive a permit before purchasing bullets.
SB 53 passed through the Senate and now moves to the Assembly. Anyone wishing to purchase bullets would need to receive a permit, give a thumbprint for a background check, and pay a fee ranging up to $50.
"SB 53 will do nothing to stop criminals from purchasing ammunition," says Senator Tom Berryhill. These restrictions only hurt the law abiding citizens, like hunters, who contribute millions to the state economy."
He adds, "It is already required that gun owners be qualified for ownership, so why must we now qualify to purchase ammunition?"
The bill was introduced by Democrat Kevin De Leon, who has said it would help keep bullets out of the hands of convicted felons and people with mental illness. A news release from De Leon's office says the proposal is endorsed by the California Police Chief's Association.
Berryhill calls it, "an invasion of the privacy rights of law abiding citizens."