Gun Bans Pass State Senate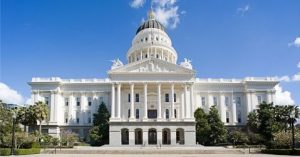 California State Capitol

View Photos
Sacramento, CA – A series of gun bills passed the state Senate today. The seven bills authored by Senate Democrats make up the Lifesaving Intelligent Firearms Enforcement (LIFE) Act. Democrats say it was designed to close loopholes in existing regulations, keep the circulation of firearms and ammunition out of the hands of dangerous persons, and strengthen education on gun ownership. Opponents say these bills won't keep guns out of the hands of those wanting to hurt others.

Founder of CourageCampaign.org Rick Jacobs says, "California has a history of pioneering legislation to protect its people. The LIFE Act does just that, making dramatic strides in reducing gun violence and reclaiming California's standing as the national leader on gun safety. As Washington has continued to prove incapable of passing even incremental reform, California once again sets the pace for the country. We applaud the California State Senate."
In April the group gave Senators a petition with 31,000 signatures in support of the bills. The package of bills are a result of a joint public safety hearing in January that studied gun violence and firearms laws in California. The LIFE Act bills now move to the State Assembly.