Update: Mono Way Widening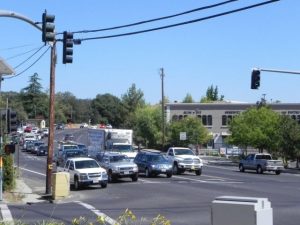 Mono Way at the Greenley Road intersection

View Photos
Sonora, CA — Construction is set to begin this summer to widen a portion of Mono Way to five lanes between Greenley Road and Fir Drive. Sonora City Administrator Tim Miller says most of the expansion will affect property on the North side of that stretch of roadway.

Miller says, "The construction period will be about six months, so we may find we're doing some of the work this summer and fall, and actually completing the paving next spring. It just depends on how soon we can start this summer."
Miller adds PG & E's work will be complete in June and Sonora Engineer Jerry Fuccillo is finishing up the final design aspects for the $3.2 million project. The widening will be funded by City and County traffic mitigation fees. The traffic mitigation program was started in 1990 and developers pay a fee when a building permit is issued for new residential construction.
Miller reports they are working on the last land acquisitions and permits, "Two items on the critical path right now; are the right of way acquisitions that are needed to actually acquire the property for the widened roadway. We're making progress on that. The Council has closed on two properties, we have two more we are considering shortly. That still leaves three properties that we need to acquire property right of way, but that is progressing well."
Miller says the other critical items in the works are getting the state environmental and the federal Army Corp of Engineer permits which they hope to have by the end of the month.
Click here for a map of the widening area.