Sonora Joins Mother Lode League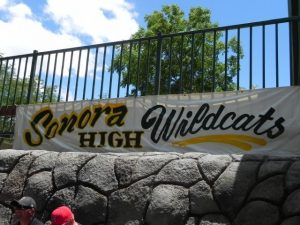 Sonora High Banner

View Photos
The section office has approved Sonora High's sports teams to leave the Valley Oak League and join the Mother Lode League for the 2014-15 school year. The Mother Lode League had 6 teams: Amador, Argonaut, Bret Harte, Calaveras, Linden, and Summerville.
The CIF Sac-Joaquin Section realignment committee of 12 (9 voting members) Did not pass a motion to exclude Sonora's Football team from the switch.
A six year decline in enrollment and travel expenses were factors in the committee's decision. Sonora Union High School District Principal Todd Deardon was asked at a March meeting if there would be a "mass exodus" from Summerville to Sonora. Deardon cited transfer regulations saying, "You can't choose a school to go play at unless you move so I don't see that as a problem."
Principal Deardon said he projects attendance for next year to be 1,000. Other information said that attendance could possibly decline to 998 in 2016-17.
Don Davis the south administrator for the realignment committee noted at a recent meeting, "I've never seen a league so adamant that they don't want a school. Why is that?"
Principal Deardon responded, "We have a great tradition, we are known as an athletic school, as a competent school. We are proud of our school. I think it stems partially from our history. We've had a very successfull football program but that was when we were 1,600 students and we are now at 1,000 students."
Mike Garrison executive committee member stated, "We have them on the watch list and we are ready to react if Sonora goes into the MLL and is actually dominating. Then the board of managers have an opportunity to take action and make it right."
It will be two years until a different arrangement can be proposed.
Update: According to Sonora High Athletic Director, Rick Frances, "Two schools in the Mother Lode League, Argonaut and Calaveras, have Freshman Football teams." He said he will also work with the Trans Valley League to have Freshman football games as soon as they get the Varsity schedule for the 2014-15 school year.