Berryhill: Pathway To Citizenship Helps Farmers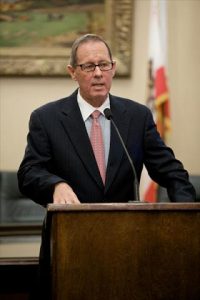 Senator Tom Berryhill

View Photos
District 14 Republican State Senator Tom Berryhill is calling on the federal government to make changes to the immigration system.
Berryhill feels that a comprehensive approach should include a "pathway to citizenship" for people who are currently working in the country illegally.
"This has been debated for a long time, both here in this state and in Congress," says Berryhill. "As a farmer, I can remember as long ago as six years ago, serving on the California wine grape growers board, we went back to Washington DC and tried to get a guest workers program. In agriculture we have a very hard time finding labor."
The pathway to citizenship would allow some undocumented workers to stay in the U.S., and apply for citizenship, if they have been in the country for several years and have a job.
Berryhill made the comments in support of a joint state Senate Resolution (SJR 8) calling on Washington, DC to enact immigration reforms. Berryhill calls it a bipartisan effort. He does ask that the legislation mandate that workers pay any back taxes owed, require a demonstrated proficiency in English, and include health and background checks.
"The federal government has failed in its responsibility to protect our borders, and address the expense border states incur, when there are unclear rules and enforcement," adds Berryhill. "Burying its head in the sand has served no one well. SJR 8 recognizes that immigrants are a vital part of a variety of our nation's industries, and supports a reasonable and timely path for immigrants already living and working here to obtain citizenship. This is the type of policy that will move our nation forward."
Berryhill's District 14 includes Tuolumne and Calaveras Counties.