Traffic Stop Turns Into Arrest Due To Visibly Shaky Driver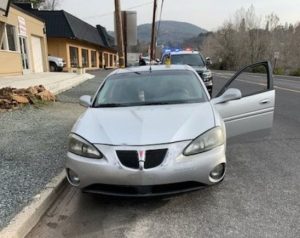 Arrest site on Stockton Street

View Photos
Sonora, CA – Evidence found in a suspect's purse may be the reason she was so jumpy and ultimately ended up in handcuffs.
Tinted windows on a car first caught the eye of a Tuolumne Sheriff's Deputy who then also noticed no front license plate causing him to subsequently pull over the car. The Pontiac sedan, pictured in the image box, was stopped on Stockton Street in Sonora on Monday morning.
Behind the wheel was 48-year-old Katie Heinze of Modesto, who the deputy observed was out of breath and her hands were very shaky, according to sheriff spokesperson Sgt. Andrea Benson. Due to her demeanor, Sgt. Benson says the deputy decided to ask her if there was anything illegal in the vehicle. She replied that there was marijuana and a little bit of methamphetamine.
A search ensued and inside Heinze purse, the deputy discovered more than 17 grams of methamphetamine, drug packaging and drug paraphernalia. Heinze was arrested for possession and transportation of methamphetamine for sale. Her bail was set at $20,000.