A Taxing Discussion On Boosting Tuolumne County Revenues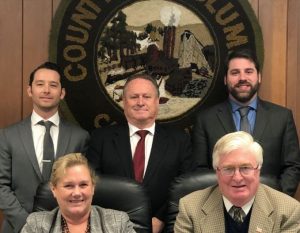 Tuolumne County Supervisors

View Photos
Tuolumne, CA – Tuolumne County Supervisors held a think tank of sorts today, discussing the rising cost of services and how to raise the revenue base to pay for them.
All five supervisors were on hand at a meeting at the Black Oak Casino Executive Board Room in Tuolumne to tackle that issue. Board Chair and District 5 Supervisor Karl Rodefer tells Clarke Broadcasting, "Costs are going up for the county and it is above the revenue (coming in)."
Although no hard figures were nailed down, Rodefer relays, the board looked at possible options to generate more revenue through ways like increasing sales and transient occupancy (TOT) taxes, imposing visitor type fees, requiring a business to be licensed or a property assessment fee.
In a united front, representatives from the county fire department and independent departments voiced their concerns to the board regarding aging equipment, response times, staff shortages and a wide coverage area. That is where the idea of a property assessment comes into play. Rodefer notes that the board is conscious of increasing the financial burden of citizens, but says the reality is that citizens are asking for additional services like more fire protection or road repairs. "The questions that I always ask," says Rodefer, "You want us to do more on roads and on fire safety but don't want to pay more. So, what services are you willing to give up to do that?"
No vote was taken at today's meeting. Instead staff was asked to study the issues and come back with recommendations. Rodefer stressed, "This is the start of a planning process to address a long term process. So we're not going to come out next month with a ballot or special election to rob everybody's piggy bank." He shares that a lot of these options could fall by the wayside,  and that they may not be viable or services could be cut. Rodefer adds, "What I don't want is for people to get really excited, 'Oh my gosh, I don't want to pay any more taxes.' What we're really doing is looking at the fiscal problem and trying to figure out what the best solution to it would be."