The Mother Lode Mourns Community Leader Tim Gallagher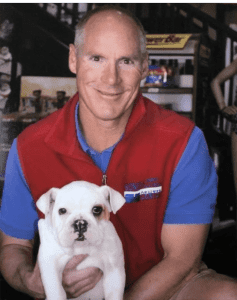 Tim Gallagher and Sonora Health and Fitness Gym Dog Tank

View Photos
Sonora, CA — This Saturday, family, friends, and community members will gather to celebrate the life of a beloved fitness gym owner whose leadership and coaching inspired thousands of locals.
While the official notice of Sonora Sports and Fitness co-founder Tim Gallagher's passing made the rounds last week, details of his memorial service and life celebration have now been finalized. Gallagher, 58, passed away last Friday. The cause was traumatic brain injuries.
While many were football-related concussions over several years spanning from early youth through college at Chico State, including a brief NFL stint, his wife Shari notes that he suffered serious concussions in a bike crash with a drunk vehicle driver years back while in Chico — while not wearing a bike helmet — and was knocked unconscious during a high-impact car accident in Oakdale.
His wife Shari confides it was almost eight years ago when specialists at UC-San Francisco diagnosed Tim after extensive testing. "The doctors basically told us to get our affairs in order and at that time, we were shell-shocked…we had young kids and didn't really know what to expect because [the doctors] didn't really know enough about the disease to prepare us," she recounts.
Persevering Through A Devastating Diagnosis
Their two sons, Sean and Michael, who are respectively now nearly 16 and 10, were nine and three when the couple learned the reason why Tim was having some movement issues; the trauma to his brain was impacting the areas affecting executive planning and spatial abilities. Shari says they chose to keep the matter largely private to protect their young family and allow Tim to live as normally as possible. However, she admits that it was such a tough blow for a gifted athlete like Tim, who thrived competing in double-century bike rides, triathlons, and iron man events.
Shari, moving about six years ago into a gym manager role, freed up Tim to achieve what he could during his active time left. "One of his proudest accomplishments — and one of the most exciting things that he ever got to do — was the Southern Traverse," Shari recounts. The six-day, 24-hour-day eco-challenge with three-person teams was a race that involved orienteering, kayaking, and mountain bike riding in New Zealand.
Until a year ago, Tim was involved in every clinical trial and study at UC-San Francisco for which he could qualify. Early on, Shari says researchers were optimistic about a potential cure and considered him a strong candidate due to his health, athletic discipline, and genius-level IQ. When nothing worked, Tim decided his purpose would be to try to help find a cure and arranged to donate his brain towards continuing research studies.
A Laguna Beach native, Tim followed his Sonoran Chico State college roommate Roger Canepa to the area for a Motherlode Roundup parade. After falling in love with the area, he and the Canepa family eventually decided to open Sonora Sports and Fitness in 1992. A local herself, Shari (known by her maiden surname of Fuentes), was working for the county district attorney's office when the two met through mutual friends. The company also runs Valley Springs Health and Fitness.
A Dedication To Strengthening And Conditioning
A mecca for community sports and all-ages fitness programs for the past two-and-a-half decades, Sonora Sports and Fitness allowed Tim to share his passion for working with kids and getting them involved with sports. The gym's youth basketball program, which just completed its 14th season, concentrates on youngsters between the ages of six and eleven, focusing on conditioning and preparing them for school teams. Along with its large youth swim program, the center runs one of the largest master swims programs in northern California. Among other popular programs are Club Volleyball and Intro to Club. Shari proudly notes that the program fills up as soon as registration opens due to the number of girls wanting to learn the game of volleyball and ways to improve their skills.
Shari confides, "He was the love of my life and the best Dad…you could not ask for a better man to raise your children…just amazing." Through the programs and activities he created, influenced, and his countless hours donated towards coaching community and school sports, she considers Tim's legacy his dedication to make a difference while helping thousands of locals from youth-age through seniors.
Former Sonoran Paul Jones, who resides these days in Hood River, Oregon, recalls while he had the opportunity to work under Tim for a couple of years, their friendship goes back two decades. "We have ridden thousands of miles together, training on bikes…we spent a lot of time together [me], watching him bring other people to a healthier lifestyle," Jones says fondly. "Tim was a true leader, visionary, and friend to the people of the Sonora community."
Tim's memorial this Saturday begins at 10 a.m. with a Mass at St. Patrick's Church (127 W. Jackson St.) in downtown Sonora. A Celebration of Life reception at Sonora Elks Lodge (100 Elk Dr.) will follow. Sonora Sports and Fitness Center will close that day in his honor. In lieu of flowers, the family requests donations to UC-San Francisco and/or Boston University traumatic brain injury-related research programs.
To view family photos of Tim, click into the image box slideshow.