Update: Sonora Structure Fire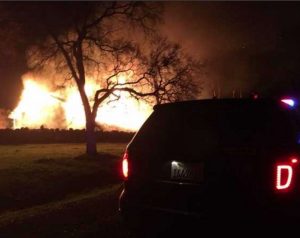 House fie on Richards Ranch Road in Sonora
Update at 9:20 a.m.: Tuolumne County Sheriff's spokesperson Sgt. Andrea Benson updated Clarke Broadcasting on the destructive fire. She shared that the home was fully engulfed in flames when firefighters arrived on the scene. Sgt. Benson adds, "A family dog alerted the homeowner to flames that appeared to have started in the garage of the home. The occupants were able to escape safely with one person suffering minor burns."
Unfortunately, Benson details that two dogs died in the flames. Exactly what sparked the fire remains under investigation. Further details on the blaze can be viewed below.
Original post at 6:30 a.m.: Sonora, CA — Firefighters worked overnight to knock down a structure fire in the Sonora area of Tuolumne County.
CAL Fire reports the flames broke out in a home on the 2500 block of Richards Ranch Road, between Wards Ferry Road and Major Way, at around 11 p.m. last night. The home was a total loss according to CAL Fire. It is unclear if there were any occupants inside the home when the fire ignited. What sparked the blaze is under investigations. We will update this story as soon as new information comes into the newsroom.