Bear Valley Seeks Investors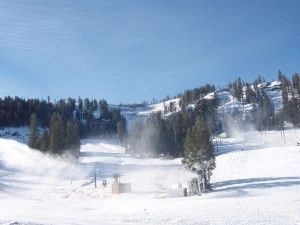 Bear Valley Mountain

View Photos
Bear Valley Resort has cleared the main environmental hurdles required for its long planned renovation and expansion.
A new ownership group took over the resort in 2005 and started work on a Master Plan for the ski area and surrounding property. Plans call for a lift to connect the village to the ski area, new mountaintop dining, trail improvements, 300 condominiums, and a new lodge. The Alpine County Supervisors have approved the Environmental Impact Report for the Master Plan, and the Environmental Assessment for the ski resort.
Resort Spokesperson Rosie Sundell says the next step is the "investment cycle.""This is where we go out and bring in the right group of investors to take this through," says Sundell. "When we started this in 2005 the economy was in a very different place, so its' hard to say how many dollars it will be. We'll spend the next six months, to a year, finding the group that is going to take us forward."
Greg Finch, Managing partner of Bear Valley Resorts adds, "We're quite confident that we will secure funding for the expansion. Bear Valley represents one of the last great development opportunities in the Sierra."
Bear Valley, located on Highway 4, has 1,680 acres of varied terrain, and more than 70 trails.