State Supreme Court: Ability to Buy Pension Credits Not A Core Right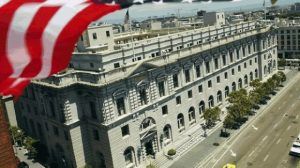 California Supreme Court Building

View Photos
Sacramento, CA — California's highest court has upheld a pension reform law-rollback disallowing a practice enabling public workers to pay for increased pension benefits.
On Monday the California Supreme Court unanimously upheld a state lawmakers' 2012 decision to end the ability of public workers to buy additional retirement service credits (ARS), effectively to be credited with more years of service in order to get a bigger pension upon retirement. Former Governor Jerry Brown supported ending the practice as a way of reducing the state's pension costs and system abuses.
Attorneys for an employees' union unsuccessfully argued that eliminating ARS credits violated California court ruling precedents that made pension benefits for existing employees unchallengeable under the "California Rule." Under the rule, when workers enter a contract with their employer on their first workday, they are entitled to retirement benefits that lawmakers cannot diminish; only replace with similar benefits.
The high court avoided tangling with the "California Rule" by specifying that ARS credits were not "core pension rights" protected under employment contracts.
Chief Justice Tani Cantil-Sakauye, who wrote the court's opinion, stated, "In the absence of constitutional protection, the opportunity to purchase ARS credit could be altered or eliminated at the discretion of the Legislature." She went on to say the court had "no occasion in this decision to address, let alone to alter, the continued application of the California Rule."
Rei Onishi, an attorney for the governor's office, said during arguments before the state Supreme Court in December that the plaintiffs would have difficulty proving that the state Legislature intended state workers to have an "irrevocable right" to purchase ARS credits for their pensions.
Since about a dozen other states observe a variation of the California Rule, any decisions that would repudiate it could have rippling implications beyond California.