New Undersheriff, Captain For Calaveras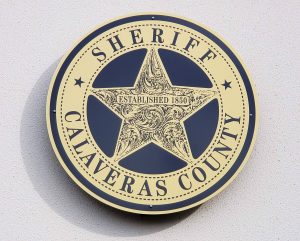 Calaveras County Sheriff Department building logo

View Photos
San Andreas, CA — Two longtime law enforcers with over 44 years of experience with the Calaveras County Sheriff's Office between them are being recognized with promotions to higher ranks.
On Friday, Calaveras County Sheriff Rick DiBasilio shared that Captain Jim Macedo has been elevated to Undersheriff and Lt. Chris Hewitt was promoted to captain.
DiBasilio notes that Undersheriff Macedo has worked for the Calaveras County Sheriff's Office for over 24 years. Recognized by the California State Assembly and the California State Senate for his efforts in combating crime and serving victims, Macedo is a Medal of Valor recipient and in 2017 won the California State Sheriff's Association's "John Sully Second in Command of the Year Award. Mr. A graduate of the FBI National Academy, he holds degrees in biology and criminal justice management. The sheriff adds that Macedo, during the course of his time with Calaveras County law enforcement, has either worked in, supervised or managed every division, unit and team within the organization.
In addition to 20 years of experience with the Calaveras County Sheriff's Office, Captain Hewitt worked for a sheriff's office in Colorado. The recipient of multiple awards for unit commendations and recognitions from the California State Legislature, Hewitt received the National Defense Ribbon for his service in the U.S. Marine Corps in which he served as an infantryman during Desert Storm. A longtime commander on the Sheriff's SWAT Team, he has also served on other specialized teams and units. Now working on his master's degree in emergency management and homeland security, Hewitt's bachelor's degree is in criminal justice management.