Summerville Bears Girls Varsity Soccer Roll On To State Playoffs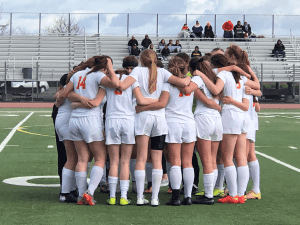 Summerville Bears Girls Varsity Soccer At Division Final Win Feb 2019

View Photos
Tuolumne, CA – Heading for state varsity playoffs are more Mother Lode contenders that include tight-knit teammates since early grammar school days.
On Tuesday, the Summerville Bears Girls Varsity Soccer team, who clinched the Sac-Joaquin Division 6 title last week with a win against the Golden Sierra Grizzlies of Garden Valley, will take on the Ripon Indians at Ripon at 5 p.m. (As we reported earlier here, the Sonora Wildcats Boys Varsity Basketballers continue to move forward in post-season play.) Ripon, the Division 5 winner, is fourth seed in the CIF Northern California Regional Girls Soccer Championship Division 5 while Summerville, the Division 6 winner, is fifth.
Still savoring the win, Coach Dave Marquez recounts, "I think the last time Summerville High [Girls Varsity Soccer] won a section title was 2001 — and this is the third year in a row that we have been in the playoffs." He adds, "[The Golden Sierra Grizzlies] were a good…very strong offensive team with girls who had scored upwards of 20 and 30 goals apiece – a couple of them — but we played them in a good game and ended up with a victory."
Summerville Athletic Director Amy Peterson notes that it was senior Rachel Tyler that kicked in the winning goal during a very competitive matchup. The other four seniors on the team are Macey Mitchell, Candace Olsen, Annabel Rust, and Stephany Randall. The roster includes ten juniors: Madison Mitchell, Eve Powell, Bella Houston, Abigail Clark, Adele Emmer, Jazmine Ramos, Serafina Peterson, Jordyn Marquez, Lorena Martinez, and Delaney Snyder. There are four sophomores: Mikaila Kronholm, Daniela Arenas, Kamryn Pitcher, and Rylie Booth.
'Healthier…Tough' Team Ready For Ripon
While defensively, Marquez says his team has been very successful, injuries had shaken the offensive side. Now, he reports, "The team is as healthy as it can be for this time of the season, and offensively, we are pretty tough, too." With regard to Ripon, he specifies, "We haven't played them in a few years but we have some of the same opponents and I think it should be a pretty evenly matched game."
A Bears win Tuesday would mean a trip Thursday to play the winner of the Lowell-Washington game; respectively first seed from San Francisco and eighth seed out of Fresno. The Nor Cal championship is Saturday.
Marquez credits his graduating seniors, who he says all contributed to the team, as great people and athletes. He says returning and JV players will add to the talent in the season ahead as well. "I have been fortunate enough to coach some of these girls since they were five and six years old and to have them through their rec…to their high school, has been really special."
Reflecting on a triumphant season and the games ahead, Marquez admits, "For the most part, these girls know each other very well…their strengths and their weaknesses, and they complement each other really well." He confides, "It has been fun to watch, especially at the high school level – because we talked years and years ago that when they did get to high school and…have the chance to win a section title or win league or something like that — and it is kind of crazy that it all happened!"
Also with the depth of talent the team has to offer, he looks even further ahead with much optimism. "I am excited about the next few years with what Summerville High has to come — and I think that we will be competitive."