Sonora High Heads To Division Championship, Wins State Playoff Berth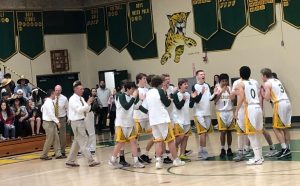 Sonora Boys Varsity Basketball Wildcats win in overtime against West Campus Feb. 20 2019

View Photos
Sonora, CA – A huge game is on the line at Golden 1 Center in Sacramento for the Sonora High Varsity Boys Basketball Wildcats.
Last night in a home game that could have been scripted for Hollywood, second-seeded Sonora defeated third seed West Campus of Sacramento, enabling the Wildcats to move on to the CIF Sac-Joaquin Section Division IV Boys Basketball Championship bracket for the first time in nearly a quarter-century.
Coach Lloyd Longeway recounts, "It was an amazing game…they hit a three-point shot to send the game into overtime at the buzzer — and then we won in overtime 93 to 87, which was just incredible — and now these guys get the opportunity to go down and play at Golden 1. We are so excited – the kids and me."
Sonora High Athletic Director Karen Sells readily agrees. "It was incredibly exciting — I haven't been in a game that was that intense in quite some time. Obviously, West Campus had a great team as well and it was a well-matched, hard-fought battle — and I was so excited for our boys and our coaching staff and our school that we came out on top."
With readily apparent kid-in-a-candy-store-glee, Longeway adds, "This is the first time I think that the kids have made it to the section finals since 1996…we only won one it once in the history of the school and that was in '88…31 years ago, so yes, it is pretty exciting."
A 'Good Shot' At A Big Win
At 4 p.m. the Wildcats will take on the number one-seeded Liberty Ranch Hawks from Galt. Longeway confides, "They're good – but we have been playing good teams — and I have a strong belief that if we play well we have a good shot at winning a section title."
Continuing, he says with obvious pride, "I have a great team. I mean otherwise, we wouldn't be where we are…everybody pitches in. Austin Patterson [a junior] is just an amazing player. He had 34 points last night, leading all scorers in the game. Second leading scorer Tyler Matyshock [a senior] scored 21 points. Then Jon Mayben [junior] came in off the bench and gave us a huge lift as a backup point guard. He and Evan Bearden [senior]…who is going to go to UC Davis for football, they each scored ten points off the bench. So it was a total team effect — and to score that many points, too, in a high school game — it was definitely a game that was made for fans."
Adding to the stats, senior captain Trey Hawkins scored 9 points; junior Logan Sewell added 5; senior Midas Calindas 3; junior Darius O'Neal 2. The other players included juniors Ben Fray, Spencer Coppello and Colton Henderson and two sophomores, Cole Edwards and Gabe Milbourn, who were called up to play in the playoffs.
With a win tomorrow, Longeway says Sonora will definitely host a home state playoff game. Jubilantly, he adds, "If we lose, we could still host one — but we will definitely get one. We just don't know where and when yet. We are definitely going to be in the state playoffs with our berth."
A "rooters bus," containing two student advisors and 47 Sonora High students who stood in line with signed permission slips earlier today for the opportunity, will head from campus to the game tomorrow morning. For those interested in watching it remotely, Longeway says the High School Sports Network should be livestreaming the game here.