State Analysts Weigh In On Forest Management Changes, Funding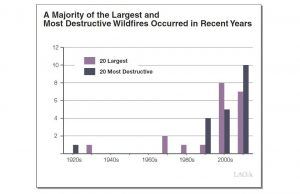 California Wildfires Graph

View Photos
Sacramento, CA – Mechanical thinning, prescribed burns, and meadow restoration are among necessary practices lawmakers are hearing about during budget allocations.
This past week, the State Legislative Analyst's Office (LAO) briefed members of the Assembly Budget Subcommittee on Resources and Transportation and the Committee on Natural Resources on combinations of activities that have reached a broad consensus as essential to improve conditions.
While the state and local governments own three percent of California's forests, the federal government and private entities respectively own 57 percent and 39 percent of the forestlands, the LAO stressed the importance of collaborative management efforts.
Acknowledging critical statewide benefits that forests provide with regard to water supply, climate change mitigation, and wildlife habitat, the LAO pointed out that most are in an unhealthy condition due to excessive density and unprecedented tree mortality levels. It also noted a trend: that the majority of California's largest and most destructive wildfires occurred in recent years.
Analyst's Office Recommends Alternate Lead Agency
Among its other recommendations to lawmakers were to improve and increase coordination of funding processes, and provide more options for using and disposing of woody biomass.
It also suggested revising certain state policies and practices, such as designating the California Natural Resources Agency (CNRA) rather than CAL Fire as lead agency in charge of overseeing proactive funding and initiatives for forest and watershed health. It additionally called for more management oversight to ensure that funded projects are meeting promised target goals.
The proposed 2019-20 budget of $244 million for forest health and fire prevention augmentations currently earmarks $165 million for CAL Fire/CCC for various forest health, fire prevention and fuels reduction programs; $35 million for CAL Fire prescribed fire crews, and $44 million for various other activities. It lists no funds under this category for CNRA.
This year's total allocation is nearly 16 percent less than was provided the 2018-19 budget, which contained more than 22 percent more than the previous fiscal year's augmentation of $236 million. The current fiscal year's funding also includes more agencies and provides $20 million to CNRA. The allocations in recent years dwarf the $61 million in funding designated in the 2016-17 budget for forest health and fire prevention as the state began its recovery from a devastating five-year drought.