Parking Creates Snow Removal Problems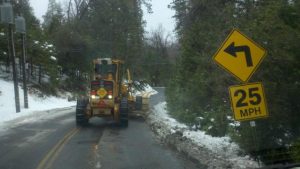 Snow Plow

View Photos
San Andreas, CA – The stormy weather caused motorists to stop along county and state roadways for a romp in the snow over the weekend, but Calaveras County officials remind that hinders roadway clearing and warn it could also be costly to travelers.
County road officials note parking in the road along county right-of-ways kept crews from removing snow in several areas, which created a serious hazard for road staff and the public. To stress the point, the county's public works department is reminding drivers of ordinance No. 2154 that prohibits parking while snow removal operations are in effect.
The county provided the exact ordinance, which states, "The parking or standing of vehicles on the right-of-way of any county road during snow removal operations conducted by or on behalf of the County is prohibited.  'Snow removal operations' shall be deemed to be ongoing whenever snow is present on the right-of-way of a County road."
The cost for motorists comes into play as county officials detail the ordinance allows for all vehicles towed to be at the owners expense. Also, repairs for any damage to a vehicle during plowing operations are the owners' responsibility.
Any questions regarding the ordinance or to report any road related issues call the publics work department at (209) 754-6402.