Snow Disrupts Waste Management's Trash Pickup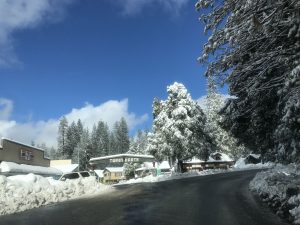 Snow In Twain Harte

View Photos
Twain Harte, CA — If you live in Twain Harte, Cedar Ridge, and above, you may be wondering when CAL Sierra Waste Management will be coming by to pick up trash and recycling.
Due to the snow-packed roads and icy conditions, Waste Management collection trucks are currently unable to navigate many neighborhoods. In addition to Twain Harte and Cedar Ridge, areas impacted include Mi Wuk, Strawberry, Sierra Village, Sugar Pine and Cold Springs. The company reports that operations will resume as soon as roads are cleared, but unfortunately, no definitive timeline has been determined.
"We understand the frustration our customers experience when inclement weather prevents our experienced drivers from being able to safely provide collection service," said Julie Cabral, District Manager, of Cal Sierra Disposal-Waste Management. "Waste Management's number one priority is the safety of our customers, and our employees. During the winter months, our drivers have additional safety procedures they must follow and these safety procedures take additional time, which can lead to a delay in service collection."
Waste Management reports that customers impacted will be allowed to place extra bags alongside cans at no additional cost when the service resumes. They can also pick up free vouchers at the CAL Sierra Waste Management office at 14959 Camage Avenue during regular business hours. In addition, those not receiving collection on scheduled days are eligible to receive a credit on their accounts.