Calaveras Supes To Discuss Disaster Recovery, Kindness Week, Special Election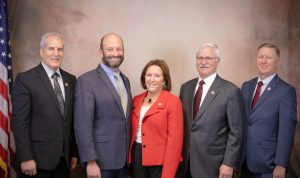 Calaveras County Board of Supervisors 2019

View Photos
San Andreas, CA — Besides receiving updates on recovery from Butte Fire, tree mortality and last winter's storm damage the supes will proclaim it Kindness Week in Calaveras County and further deem the county as a Random Acts of Kindness Zone.
In other regular agenda business, the supervisors will address accepting contract work for the installation of a temporary bridge on Blagen Road and award a contract through Dec. 31 2020 for related disaster recovery repair services to Mark Thomas in an amount not to exceed $198,167. A second award contract through the same period is slated to be approved for Dokken Engineering in an amount not to exceed $275,760 to cover Murphys Drive disaster recovery repair work.
Among numerous consent items, the board anticipates authorizing executing an agreement between the county and Secretary of State in the amount of just under $200,000 to provide the state reimbursement funds to assist in the purchase of a new voting system. In other elections-related matters, the board plans to adopt resolutions to conduct a special May 7 election during which the Ebbetts Pass Fire Protection District and Appaloosa Road Community Services District will place special tax measure proposals on the ballot.
Tuesday's meeting opens to the public at 9 a.m. in the supervisors government center chambers (891 Mountain Ranch Rd.) following a one-hour closed session over labor negotiations.