Costly Crack Down On Texting And Driving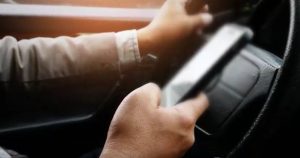 Texting while driving
Sacramento, CA – A California law maker and a well-known actor for his role in "CHiPs" portraying an officer are teaming up in a Public Service Announcement (PSA) to push a bill that could be costly to drivers – but save lives.
Assemblymember Jim Frazier (D-Discovery Bay), chair of the Assembly Transportation Committee, and actor Erik Estrada's PSA talk about the dangers of using a phone illegally while driving. Estrada stressed, "I have a teenage daughter who drives all the time and she's not driving with her phone in her hand because she knows daddy will take her car away. But there are young teenagers and young adults that are driving and they're distracted. You can't do that anymore, because one second can cause a major accident."
Frazier has suffered that real life consequence as his 20-year-old daughter was killed in a crash on Highway 50, when a stretch of black ice caused a head-on collision. That is why he has co-authored AB 47, which would strengthen the existing fine based law by add a point to a motorist's driving record for each violation. Currently, drivers are charged $20 for the first violation and $50 for subsequent violations.
"Taking your eyes off the road for 5 seconds to answer a text is like driving across a football field with your eyes closed at 55 miles per hour," Frazier said. "Is it worth it – taking the chance that you might kill somebody's child, wife, husband, brother, sister, or parent?"
A recently published observational study found that motorists illegally using their phones increased in 2018, after years of decline reports Frazier. The PSA can be viewed in the image box.